Welcome to the Quad for Mobile Film Stories!
This is your space to collaborate, share insights and ask questions to other community members. You'll need to register to interact.
Please keep all topics related to the mobile film community and industry.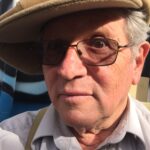 Joined: September 29, 2020 6:23 pm
Last seen: October 11, 2020 7:36 pm
Music for Film
I have been a professional musician since 1973 – – recording artist, music composer, and live performance artist. On my live performances I perform blues and jazz, but my recorded music reflects techno, urban, and sci-fi. I think much of this would be useful material for film makers employing themes of space, future, urban and noir. During my time in the music business I have avoided sounding mainstream. The result is that after 45 plus years, this music is quirky, different and is uniquely my own style.
If you care to take a listen you can hear my music on SoundCloud.
https://soundcloud.com/robin-henkel
Self employed musician and recording artist