Welcome to the Quad for Mobile Film Stories!
This is your space to collaborate, share insights and ask questions to other community members. You'll need to register to interact.
Please keep all topics related to the mobile film community and industry.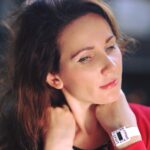 Joined: September 8, 2020 12:53 pm
Last seen: September 8, 2020 1:12 pm
Hi I'm Inga Vosk, a filmmaker from Russia.
My feature film #STEALTH is the winner of the Best Feature of San Diego International Mobile Film Festival. Happy to be the part of the mobile filmmaking community created by Susan. I'm ready to share my experience with you!