Mobile Film Stories is a proud sponsor of the pioneer International Mobile Film Festival in San Diego, California launched in 2009: All films shot with smartphone cameras.
Submissions are OPEN for the 13th edition #MFF2023SanDiego. DEADLINES are soon approaching, get details.
The online programming guide for IMFF 2021 has details on each film and the results of the festival.
We worked very hard to create and design this event for you. If you would like to help us support mobile filmmakers with our film festival and other programs, including our podcast, you can support us here. You can also support us on Patreon.
The 10th Anniversary of the International Mobile Film Festival in San Diego dates were April 23-25, 2021.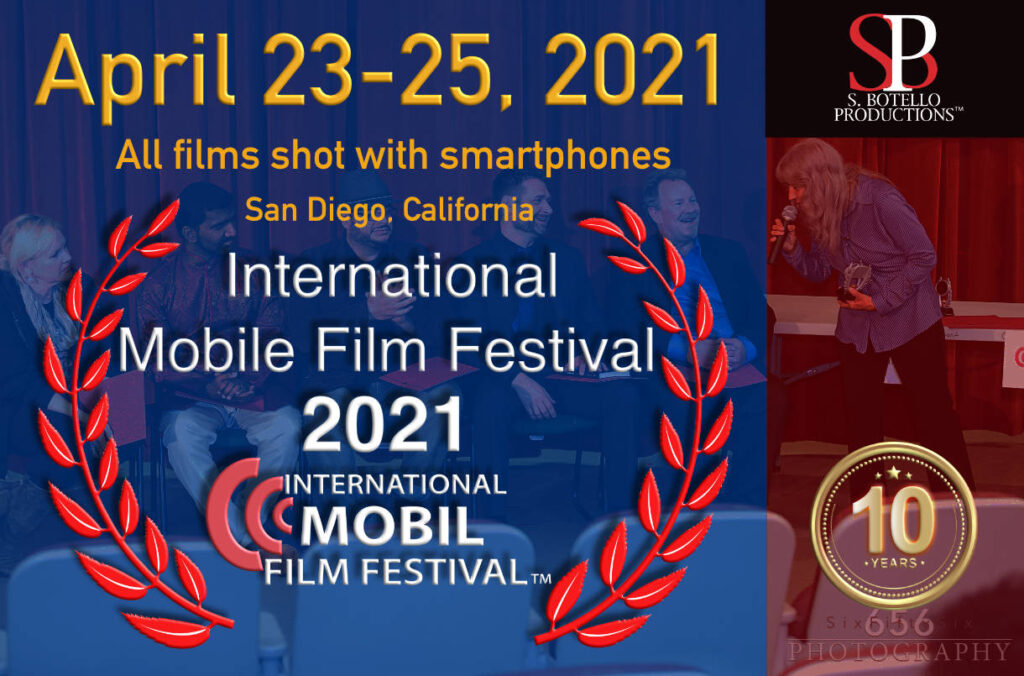 The Festival began with a kick off video April 23 at 1pm PST. On April 25 at 1PM PST, the Awards Ceremony video was presented, announcing the winners of the 2021 edition of the International Mobile Film Festival.
All 50 short films and 3 feature films were available (VOD) through Midnight PST April 25.
WATCH Jennifer Zhang winner of the 2021 Best Feature Film Award with her film, Charon. On July 20, 2021, Jennifer came to San Diego to the IMFF venue at Marina Village to collect her Best Feature Film Trophy award plus a surprise Pioneer award for being the first in the world to edit an entire feature length film (73 minutes) on the smartphone (iPhone).
A very special thank you to those who made it out to make the award presentation special! Aaron Nabus IMFF Brand Ambassador; Keithan Jones, friend and creator of Kid Comics; Neal and Jana Hallford, festival sponsors Swords and Circuitry Studios.
TESTIMONIALS:
"IMFF was my first film festival. Susy Botello is a gracious host and responds to questions quickly. The IMFF team was wonderful! I highly recommend this event!!!!"
Lillian Carter | 2021 International Mobile Film Festival
"Recommended festival. One of the coolest! and I am grateful to have been included in the 10th edition, a large community of mobile filmmakers that Susy and her crew have been following for several years."
Sigfrido Giammona | 2021 International Mobile Film Festival
"Brilliant communication, organization and the offers of opportunity."
Michèle Jedlicka | 2021 International Mobile Film Festival
"Super Festival! Susy is amazing ! She's taking care of you and she gives you a great support! Very well organised! I highly recommend this festival."
Jake Meniani | 2021 International Mobile Film Festival
CONGRATULATIONS!
The Awards were presented Sunday, April 25 at 1pm PST with a special video presentation which followed by a Q&A session in the Virtual Lobby in The Quad. The participants were some of the short film competition filmmakers and the feature film, Charon, actor and filmmaker Jennifer Zhang also took part in the Q&A.
All the awards for 2021 and previous years are listed in the official IMFF website's Awards page.
You can join the Virtual Lobby in The Quad by registering (free) and read up on two Q&A sessions with filmmakers. You can also connect with the filmmakers and network at any time, including after the festival.
The day after the film festival, April 26 at 1pm PST, festival founder, Susy Botello, discussed the festival in the "International Mobile Film Festival Post Discussion" event put on by the Mobile Film Stories Club in the social audio Clubhouse App.
SIGN UP free to the IMFF Newsletter and community platform to get the latest updates about IMFF.
The red carpet is in your pocket!™
© 2021 S. Botello Productions™. All rights reserved.