Welcome to the Quad for Mobile Film Stories!
This is your space to collaborate, share insights and ask questions to other community members. You'll need to register to interact.
Please keep all topics related to the mobile film community and industry.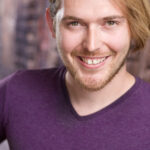 Levi Austin Morris
Group: Registered
Joined: October 1, 2020
Levi Austin Morris is a SAG-AFTRA actor, director, and writer. He holds a degree in Performance and Directing from Augsburg University in Minneapolis. Since arriving to Los Angeles in 2011, Levi become a member of SAG-AFTRA, co-founded a production company and has written, directed, produced or starred in over 10 short films and a feature. His most recent short film, "The Tea" has been selected into six film festivals, a finalist in two, and was awarded BEST LGBT SHORT in one. Levi is a founding member of Funny by Association where he writes, directs, edits, and acts in online sketches. An advocate for creating original content, Levi always has a hand in creating new work.