IMFF ONLINE EDITION 2022 – TODAY IS THE LAST DAY!
Welcome to the 11th annual edition of the International Mobile Film Festival in San Diego, California!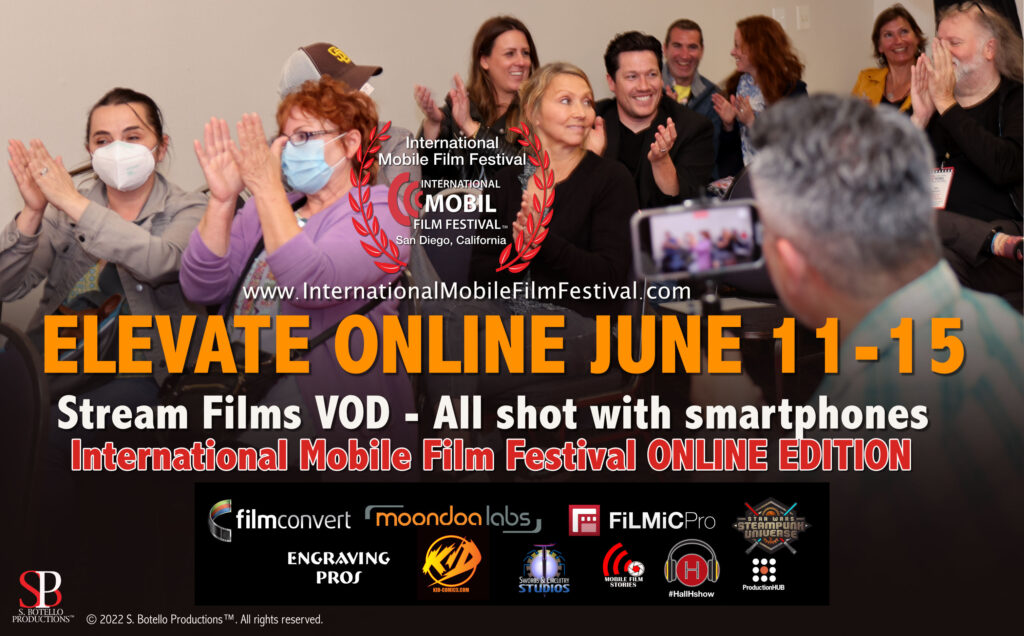 Everyone enjoyed a great "comeback in-person" celebration April 29, 30 & May 1 in San Diego's beautiful Marina Village. Our festival venue treats filmmakers and attendees to incredibly delicious restaurants, live bands, a beautiful hotel, and views to the Marina.
What are you doing April 28, 29 & 30, 2023?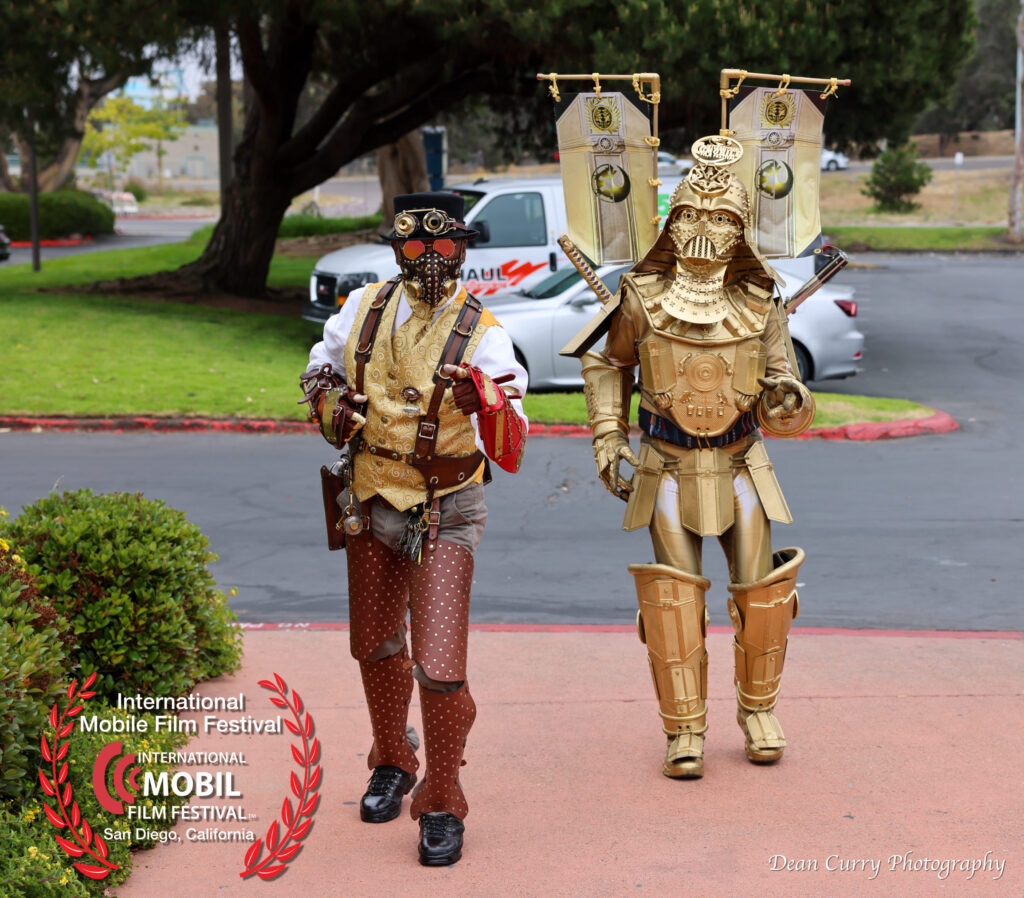 ONLINE EXPERIENCE
We've been working hard to prepare this online version of the festival this year for the mobile filmmaking community. The theme for this year's festival is Elevate!
We'll be making announcements and sharing some in-person "FEST BITS" on the Facebook/Metaverse Online Event Platform (open and free for the public).
IMPORTANT: Once you have entered the festival with the unique link (which will be emailed to you when you purchase your passes), please use the navigation links at the bottom of each page you have been given access to. You can always click on the link again from your email if you get lost in the land of "Mobile Film Stories".com.
ACCESS: Purchase passes to watch all the films and enjoy some extras.
JUNE 11 @ 8PM PT – If you've purchased your pass, then you already have the link to access the films for the festival according to the schedule. The event ends June 15 at 8PM (PDT).
INTRODUCTION VIDEO: An introduction to our judges and sponsors shared on our large screen every day during our festival: Watch VOD (Video On Demand) free.
EVENT INFO
We hope that if you're part of the mobile filmmaking community, you will share this unique online festival experience.
Since 2020, we continue to observe what the benefits to the filmmakers and attendees are, regarding online festivals. An online film festival can supersede an in-person event in cost and time, when you want to provide a unique experience for your film community. One which they have not experienced in other festivals.
We hope you appreciate our online edition of this year's back-in-person event. If you are a smartphone filmmaking aficionado, or if you are curious or intrigued, you will find a full plethora of mobile filmmaking resources here.
HASHTAGS: #MFF2022SANDIEGO #MOBILEFILMSD
Social Media: Twitter @MobilFilmFest | Instagram @MobileFilmSD | FB/Meta @MobilFilmFestival
Full Festival Program and Schedule has more information for each film and the overall festival this year.
Sponsors: FilmConvert – Moondog Labs – Filmic Pro – Mobile Film Stories – Swords and Circuitry Studios – Star Wars Steampunk Universe – Engraving Pros – Kid Comics – Hall H Show Podcast – Production Hub
CALL FOR FILMS IMFF 2023: The 12th Edition of our film festival's call for films and new rules and criteria will be available June 19, 2022. There are regular and late deadlines (more expensive) but most deadlines begin in October 2022. Find out what's changin' for #MFF2023SanDiego!
THE AWARDS: Congratulations to the winners this year!
Feature Film Competition Winner
Best Feature Film: Darcy Yuille | One Punch (iPhone 8 Plus & iPhone X)
Runner Up: James Smith and Caroline Spence | Surveilled (Samsung S9+)
Mobile Short Film Competition Winners
First Prize: Mirabai Nicholson-McKellar | The Secret Life of Bees (iPhone 11 XS Max)
Second Prize: Taylor Buoro | Packet Mix (Samsung Galaxy S21 Ultra)
Third Prize: Marcelo Ignacio Lagreze | (PAUSE) – (iPhone XR)
SHORT FILM CATEGORY AWARDS:
Best Narrative: Taylor Buoro, Packet Mix
Best Geography, Wildlife & Travel: Mirabai Nicholson-McKellar, The Secret Life of Bees
Best Documentary: Marcelo Ignacio Lagreze, (PAUSE)
Best Ultimate Mobile: Jon Gill, Working At Home
Best Music Video: Clint Clark, Dream Come True
Best Experimental: Daniel Michael Tomcik, To Dust I Shall Return
Best Screendance: Cara Hagan, Holocene Dreams
THE INAUGURAL ROOKIE AWARD:
Quinn Friedman (17 yrs.), A Boy's Best Friend (iPhone 12 Pro Max)

Don't miss out on the SBP Podcast Mobile Filmmaking PODCAST! Listen to over 120 episodes featuring filmmakers making films using smartphones. Episode 100 with Michael Koerbel shares the history of iPhone filmmaking from a participatory perspective. We also talk about our pioneer festival and his first place winning film in our inaugural festival in 2012, Apple Of My Eye. Listen to Michael and host/festival founder Susy Botello geek out.
Subscribe in your podcast listening app so you don't miss new episodes: www.sbppodcast.studio The Voice of Mobile Film™
© 2022 S. Botello Productions™/International Mobile Film Festival. All rights reserved.