Welcome to the Quad for Mobile Film Stories!
This is your space to collaborate, share insights and ask questions to other community members. You'll need to register to interact.
Please keep all topics related to the mobile film community and industry.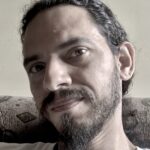 Al Garcia
Group: Registered
Joined: September 30, 2020
I'm a filmmaker living in Havana. Passionate about storytelling. Writer, director, video editor and cat lover. Right now planning to make a lot of films on my phone.